Posts Tagged 'Dont put off your home purchase'
In a CNBC 
article
, self-made millionaire David Bach explained that: "
Buying a home is the escalator to wealth in America. Homeownership can also help you retire early, that is, if you pay your mortgage off.
"  Bach suggests that homebuyers should,
"Take out a 30-year mortgage, but with the intention of paying it off in 25, 20 or ideally, 15 years."
How does he suggest you do this?
Here's the secret:
"…If you were paying $1,000 a month, now you're going to make $1,100 payments every month. Inform the bank that you are doing this and that you want the extra $100 a month to be applied to the principal (not the interest)."
What will happen to your mortgage?
Bach explains that,
"If you keep this up, you'll wind up paying off your 30-year mortgage in about 25 years. Increase your monthly payment by 20 percent, and you'll have that mortgage retired in about 22 years."
Bottom Line
Whenever a well-respected millionaire gives investment advice, people usually clamor to hear it. This millionaire gave simple advice – buy a home and pay off your mortgage early so that you can retire sooner with the money you will have saved!
Who is David Bach?
Bach is a self-made millionaire who has written nine consecutive 
New York Times
 bestsellers. His book, 
"The Automatic Millionaire," 
spent 31 weeks on the 
New York Times
 bestseller list. He is one of the only business authors in history to have four books simultaneously on the 
New York Times, Wall Street Journal, BusinessWeek 
and
 USA Today 
bestseller lists. He has been a contributor to NBC's 
Today Show,
 appearing more than 100 times, as well as a regular on ABC, CBS, Fox, CNBC, CNN, Yahoo, The View, and PBS. He has also been profiled in many major publications, including the 
New York Times, BusinessWeek, USA Today, People, Reader's Digest, Time, Financial Times, Washington Post, 
the
 Wall Street Journal, Working Woman, Glamour, Family Circle, Redbook, Huffington Post, Business Insider, Investors' Business Daily, 
and
 Forbes.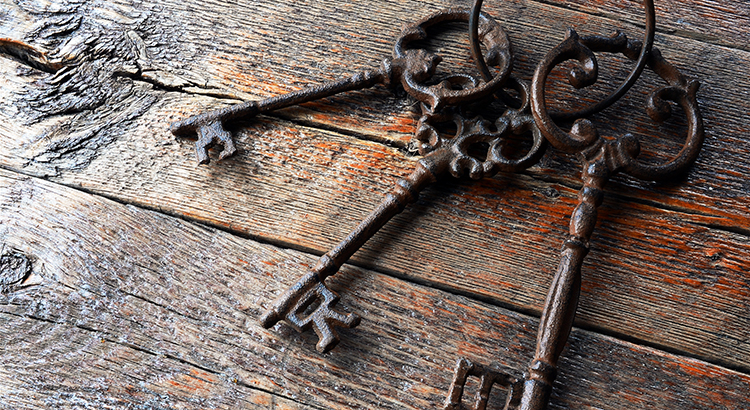 If you are debating the question, "should you buy your home now," you are probably getting a lot of advice. Though your friends and family will have your best interests at heart, they may not be fully aware of your needs and what is currently happening in the real estate market.
3 Questions to Ask Before You Buy A Home
Ask yourself the following 3 questions to help determine if now is a good time for you to buy in today's market.
1. Why am I buying a home in the first place? 
This is truly the most important question to answer. Forget the finances for a minute. Why did you even begin to consider purchasing a home? For most, the reason has nothing to do with money. For example, a
survey
by 
Braun 
showed that over 75% of parents say, 
"their child's education is an important part of the search for a new home."
This survey supports a study by the 
Joint Center for Housing Studies at Harvard University
 which revealed that the top four reasons Americans buy a home have nothing to do with money. They are:
A good place to raise children and for them to get a good education
A place where you and your family feel safe
More space for you and your family
Control of that space
What does owning a home mean to you? What non-financial benefits will you and your family gain from owning a home? The answer to that question should be the biggest reason you decide to purchase or not.
2. Where are home values headed?
According to the latest 
Existing Home Sales Report
 from the 
National Association of Realtors
(NAR),
the median price of homes sold in May (the latest data available) was $252,800, which is up 5.8% from last year. This increase also marks the 63rd consecutive month with year-over-year gains. If we look at home prices year over year, 
CoreLogic
is
forecasting
an increase of 5.3% over the next twelve months. In other words, a home that costs you $250,000 today will cost you an additional $13,250 if you wait until next year to buy it.
What does that mean to you?
Simply put, with prices increasing each month, it might cost you more if you wait until next year to buy. Your down payment will also need to be higher in order to account for the higher price of the home you wish to buy.
3. Where are mortgage interest rates headed?
A buyer must be concerned about more than just prices. The 'long-term cost' of a home can be dramatically impacted by even a small increase in mortgage rates. The 
Mortgage Bankers Association
(MBA),
NAR
, and 
Fannie Mae
 have all projected that mortgage interest rates will increase over the next twelve months, as you can see in the chart below: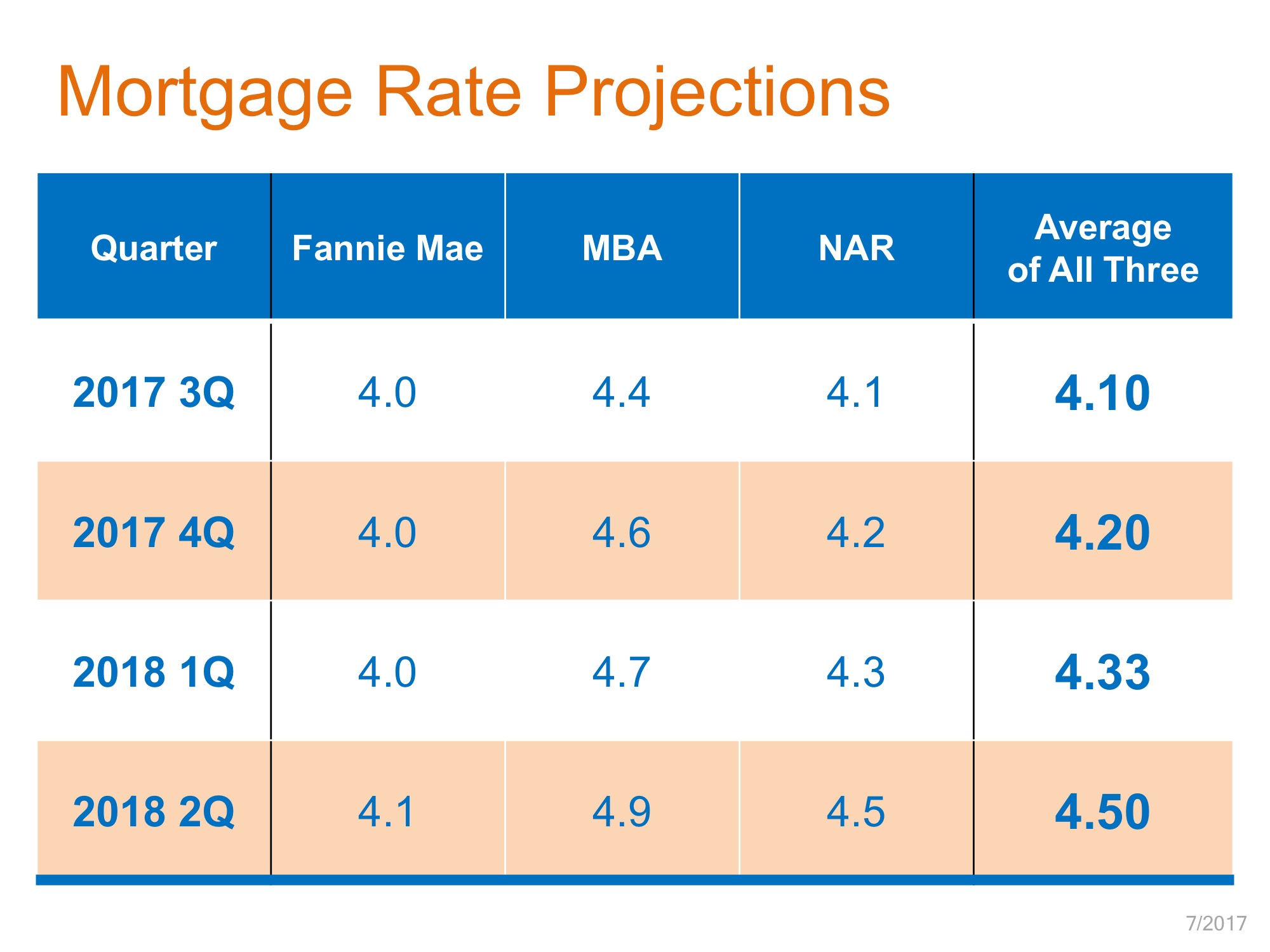 Bottom Line
Only you and your family will know for certain if now is the right time to purchase a home. Answering these questions will help you make that decision.
So you just lost out on a bidding war on the 3rd house you have put bids in on.  You offered full price, but was then asked to provide your final and best offer.  So you increased your offer by another $2,000 and still lost out on the home you fell in love with. Situations like this are not unique in this super-strong seller's market we're in.
Some short time ago, I received a frustrated buyer's voicemail message indicating he was going to put off his search for a while.  Looking at houses that had better photos than in reality and getting beat out on his last 3 offers, he and his wife were going to put their home search on the back burner.
I responded with the following email that contains good advice for all frustrated home buyers currently out there looking to buy a home in a very hot home seller's market:
Good morning,
I received your message and have no problem with your decision to wait as buying a house is always a personal decision one (sometimes two) must make.
I would just remind you that Johns mortgage rate this past summer was around 3.6% and rates are currently hovering between 4.25% and 4.5%. Historically, over the past 30 years, the average rate has been just above 8%.
I bought my first home at 16% mortgage rate in 1980, but I needed a home and that was the current rate. Mortgage rates currently remain near historical lows.
Bottom line: Would you wait and feel good about purchasing a year from now at a mortgage rate above 5% with the likelihood of home prices up 5% from current levels?  This is the prospect many are facing and why you are seeing such high activity levels this early in March.
I wish you the best and will be happy to help whenever you are ready.
After the buyer read my response, he and his wife went out the very next day, found a house they loved, called me to show it to them again and we placed a full price offer.  Although the offer was full price, they increased their offer above full price since there were several other offers and they didn't want to lose this house.  I'm happy to report that they placed the winning bid on a house they will just love for years to come.
Moral: Don't Put Off Your Home Purchase – Just realize competition is stiff and when you see a house you like, you need to respond quickly and firmly with a substantial offer.  This isn't the market to think you can get a house by offering 5 or 10% less than full ask and an offer above full ask is required when the home you seek is priced accurately!